For the latest installment of LFF's London I wanted to highlight a great 'dinner date' venue, and Chino Latino pan-asian restaurant in the Park Plaza Hotel is the chicest I have found in town.
Dates don't always have to be of the romantic variety (I have dined at Chino Latino with both my sister and now my boyfriend); but be it a girls night or a couples affair, they are always best enjoyed in an intimate setting with a great cocktail menu.
Chino Latino is located inside the glamorous Park Plaza hotel on the South bank opposite the House of Parliament.
A Latin bar sits alongside the restaurant, offering an amazing cocktail menu including creations like juicy watermelon martinis and passion fruit syrup-laced champagne cocktails. I'd recommend the delicate Chino Signature – a delicious pink pastel pink short cocktail combining K-Centrique with lychee, lime juice and fresh squeezed pomegranate.
We started dinner with a choice of three dishes to share (sharing plates are always a winner on a dates): 'Sashimi set 1', grilled scallops with yuzu aioli and crushed wasabi peas and crispy soft shell crab Californian rolls.
Sashimi is my culinary weakness; I frequently crave the fresh, melt-in-the-mouth goodness of raw fish. Chino Latino's set 1 contained three types: tuna, salmon and more unusually, seabass served with a fresh wasabi paste (a new discovery for me). As with all great sashimi, Chino Latino's set was delicate in flavour and tender in texture, with the fresh wasabi delivering a biting hot kick.
If you haven't tried soft shell crab sushi - you really must - the contrast of crispy deep fried crab against sticky, soft rice is amazing. Chino Latino's Californian rolls were perfectly balanced and came coated in vivid orange 'Tobiko' (fish roe) with creamy avocado inside. The scallops arrived at the table last and were full of yummy sweet sea flavours and complemented with the crunch of crushed dried peas.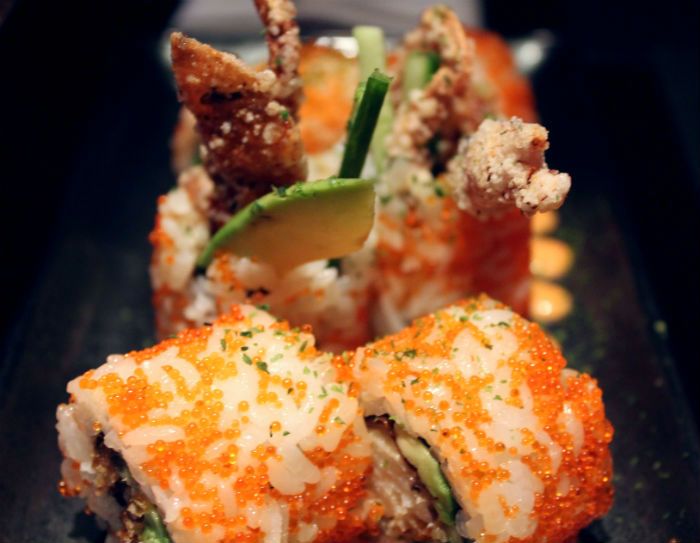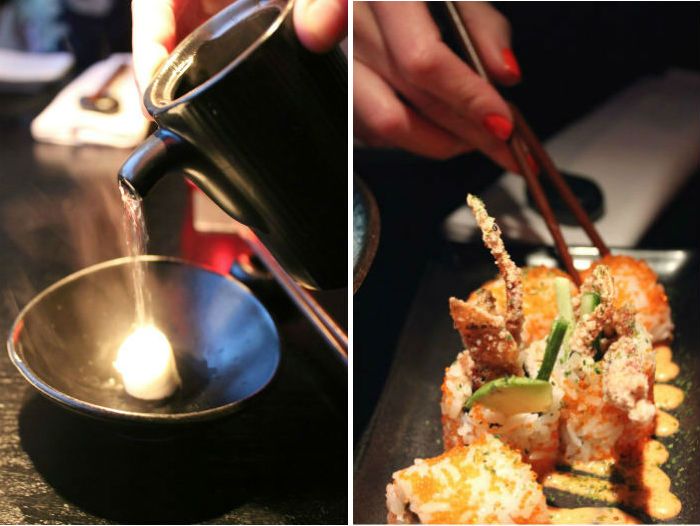 Our mains were totally indulgent – we shared black cod with spicy miso and lobster and king crab gratinated with yuzu and chilli garlic hollandaise. We added simple sides of steamed bok choi with sweet soy and sesame and jasmine rice. The black cod was a highlight – full of savory, umami miso flavour whilst buttery and luxurious in texture.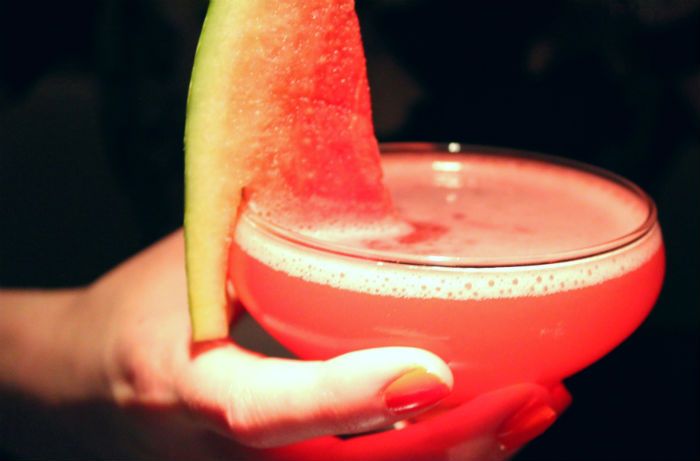 The great thing about eating a light, low carb dinner is that there is room to indulge come dessert! Chino Latino's platter for two features a selection of their desserts including fresh fruit, green tea mochi ice cream (traditional Japanese ice cream balls) and passion fruit cheesecake. Some of the desserts on the platter were amazing and some were off the mark, but it was fun to sample them all. The highlight was the light and airy cheesecake that oozed passion fruit sauce from the centre.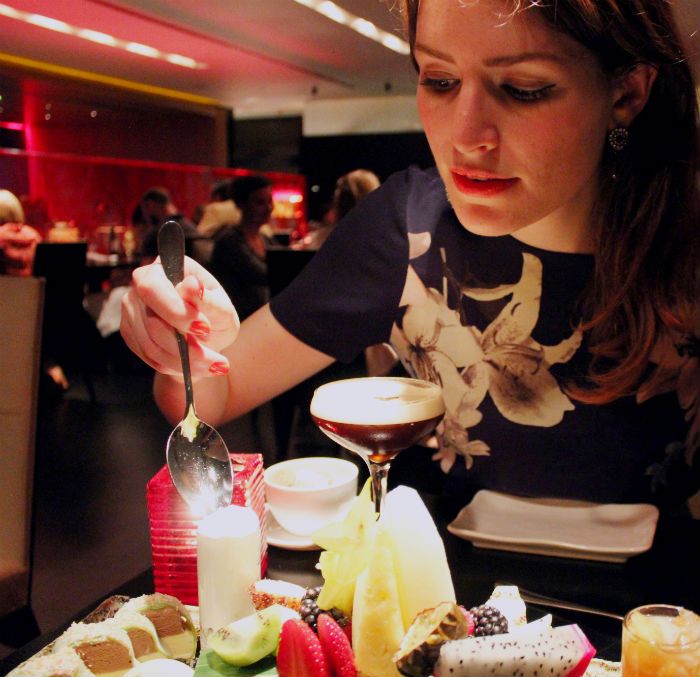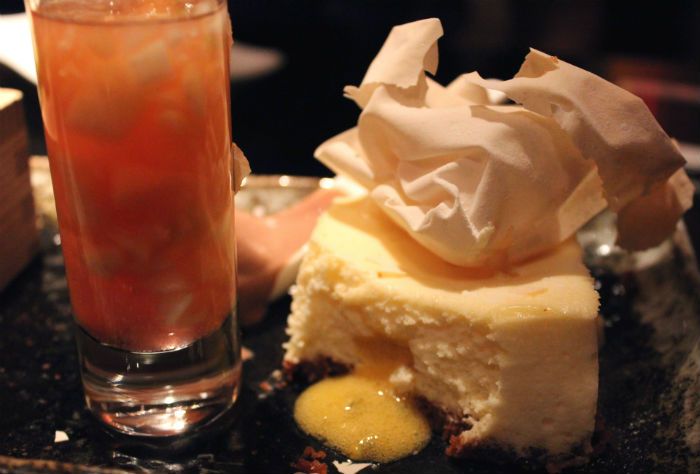 Chino Latino isn't cheap (although it certainly isn't Nobu prices either), but that's what makes it ideal for dinner date, it has that special and indulgent atmosphere that just makes you fall in love.
LFF dined as a guest of Chino Latino. Chino Latino have UK branches in Nottingham, Leeds and London - to reserve your table, visit the Chino Latino website here.